Breaking News
Casey and Pups week 2
For those of you that have been following Casey, here is her latest updates and photos!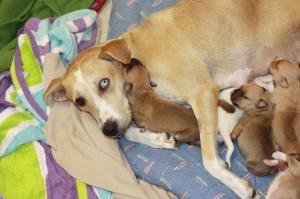 Remember, Casey was the sweet dog that had been found abandoned and chained to a fence in an abandoned house for several days. When we got her, she was already very far along in her pregnancy. She was fairly malnourished and had every single intestinal worm that a dog can have. We are somewhat limited on medications that we could use on a pregnant female, but we treated her the best that we could. Dr. Pelton sent out bloodwork on her, and she was already becoming very anemic. Her anemia was continuing to get worse and she was starting to act sick, so it was decided that the best thing was to just get the puppies out. We performed a C-section on her on Monday October 17th. 9 puppies, all of them survived! Shortly after the surgery, Dr. Pelton could tell that Casey just wasn't herself. After running some more bloodwork we discovered that she had become even more anemic and was in need of a blood transfusion. Those puppies, and the parasites were just taking everything that she had. Fortunately, Mary's beautiful dog "Flower" came to the rescue and donated some of her blood! 2 days later and Casey was feeling great! She has been a terrific mom, and we still have 9 happy and healthy little puppies. At this point we have absolutely no idea what they might be mixed with, but when the puppies are big enough I am probably going to send out a DNA analysis on one of them.
Here the pups are at almost 2 weeks old. Pass the word around, because in another 4-6 weeks we are going to need homes for lot's of puppies!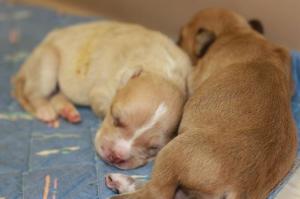 Dr. Pelton and all of the staff at Hearthstone Animal Clinic.